Ocutrix Vision Technologies has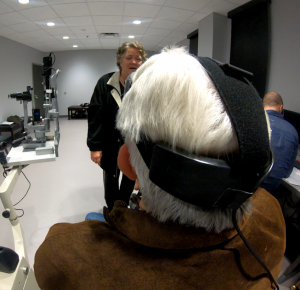 sucessfully completed the first pre-pilot trial for the technology.
25 June, 2019
The study was conducted here at Tulsa Retina Consultants and assisted by Scott Hewitt, CCRC and Deborah Hardison, COMT.
Subjects had difficulty reading and most had not been able to read for years due to Advanced Macular Degeneration (AMD). Using the Oculenz headset all subjects were able to read 30-point type at a standard reading pace, with some reading down to 12-point type. These results suggest that the brain is able to adapt to the view presented by Oculenz and comprehend the entire modified view all the while ignoring the blind spot (scotoma) caused by AMD.
Oculenz accomplishes this by first detecting a subject's blind spot and then moving words and letters from this sightless area into areas of the retina where the subject can see and perceive them.
"This is a ground-breaking study," said Dr. Thomas A. Finley, MD, of Tulsa Retina Consultants, and chairman of the Ocutrix Medical Advirsory board. "The Oculenz headset was a significant aid for improving functional vision."
Read more here: https://www.mddionline.com/ocutrx-harnesses-power-ar-vision-correction