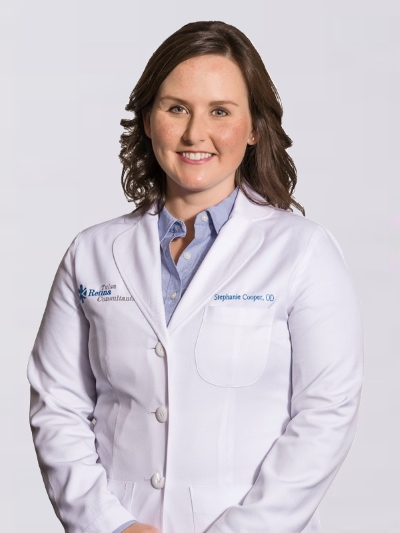 It was an interest in physics and optics that initially led Stephanie Cooper, OD, a native of Stillwater, Okla. into eyecare. After college, Dr. Cooper continued on to Northeastern State University in Tahlequah to earn her Doctor of Optometry degree. There she found the study of the retina to be interesting and challenging and decided to pursue an ocular disease residency. She then went on to complete one of the nation's first optometric retina fellowship programs with Dr. Lars Freisberg before joining him in practice.
Today Dr. Cooper is most involved in the evaluation of new patients, follow-up with existing patients and post-operative checkups for surgical patients.
"Dealing with vision loss is scary for patients and it's important to me to address their concerns and help them understand what's causing their vision changes," said Dr. Cooper. "There's often not a one-time fix for conditions like macular degeneration and diabetic retinopathy, instead we're planning a series of recurrent treatments. These can improve their condition or keep it from worsening over time."
In addition to the treatment of retinal disease, Dr. Cooper is also interested in her patient's overall wellness. "We're working to improve our patient's vision but that is affected by their systemic health. A healthy diet, exercise, not smoking and managing chronic illness can all help their vision as well. We often work with our patients' primary care physicians, endocrinologists, or other care providers to get them on the road to better health."
Dr. Cooper says retinal disease is an exciting field because as the population is aging, there is more and more interest in retinal conditions associated with aging. This has led to more drug trials and new techniques becoming available. Tulsa Retina Consultants is committed to being on the cutting edge of these retina therapies.
Tulsa Retina Consultants is the region's largest group of retina specialists serving patients across northeast Oklahoma.
Vitreoretinal Surgical Fellowship
Retina Vitreous Affiliates
Tulsa, OK
Ocular Disease Residency
Britton Vision Associates
Tulsa, OK
Education
Optometric Doctor
Northeastern State University Oklahoma College of Optometry
Tahlequah, OK
Bachelor of Science in Psychology
Oklahoma State University
Stillwater, OK
Board Certified in Optometry
Joined Tulsa Retina Consultants in 2015
Practicing since 2011