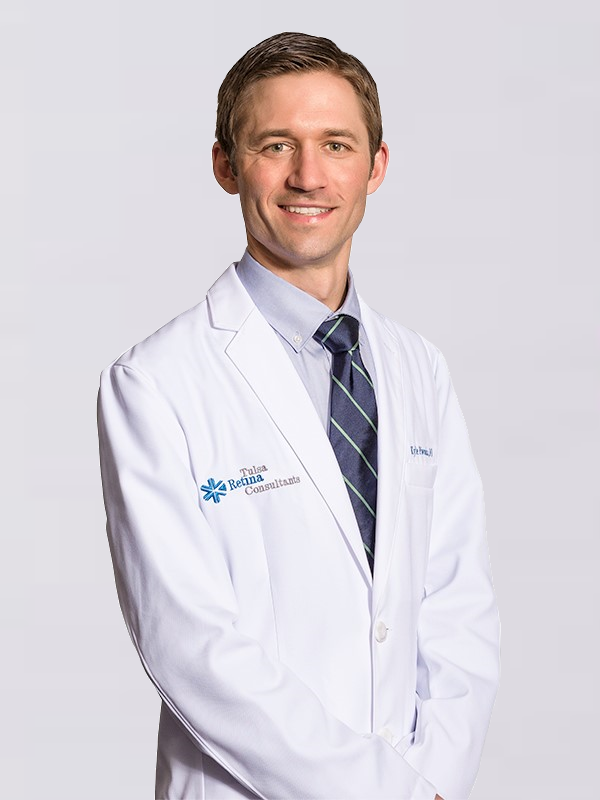 At the age of nine is when Kyle Piwonka, DO first became interested in ophthalmology. His grandmother suddenly experienced vision loss in her left eye. The cause was macular degeneration. "The disease left her unable to distinguish faces or facial expressions," says Dr. Piwonka. "Because of my grandmother's condition, I began to study more about the eye." "I have always found it to be incredibly interesting!"
Dr. Piwonka has served as Principal Investigator in a number of clinical research studies. "The therapies and technologies available to ophthalmologists today are evolving rapidly and allow physicians to provide the very best of care to their patients," he says. "I am excited that Tulsa Retina Consultants will soon be conducting clinical studies in Tulsa."
"Tulsa Retina Consultants offers a community first approach to treating patients," he states. "They are actively involved in reaching out to patients in communities surrounding Tulsa." "And," he adds, "I want to be a part of that outreach."
Dr. Piwonka was born and raised in San Angelo, Texas. He graduated Magna Cum Laude from Texas A&M University and completed his graduate studies at the Fort Worth location of the University of North Texas Health Science Center.
From Texas Dr. Piwonka relocated to Detroit, Michigan where he completed his ophthalmology residency program at Michigan State University. Then it was back to Texas for a two-year Vitreoretinal Surgical Fellowship with Valley Retina Institute at McAllen, Texas.
Dr. Piwonka comes to Tulsa from Wyoming where he has been practicing for the past two years. He has been licensed in Medicine and Surgery since 2011.
Vitreoretinal Surgical Fellowship
Valley Retina Institute
McAllen/Harlingen/Brownsville, Texas
Ophthalmology Residency
Michigan State University Ophthalmology Program
Detroit, Michigan
Chief Resident
Education
Doctor of Osteopathic Medicine
University of North Texas Health Science Center, Fort Worth, Texas
Texas College of Osteopathic Medicine. May 2009 – graduated with honors.
Bachelor of Science in Biomedical Science
Texas A&M University, College Station, Texas
December 2003 – graduated Magna Cum Laude.
Board Certified in Ophthalmology
Started Practicing in 2011